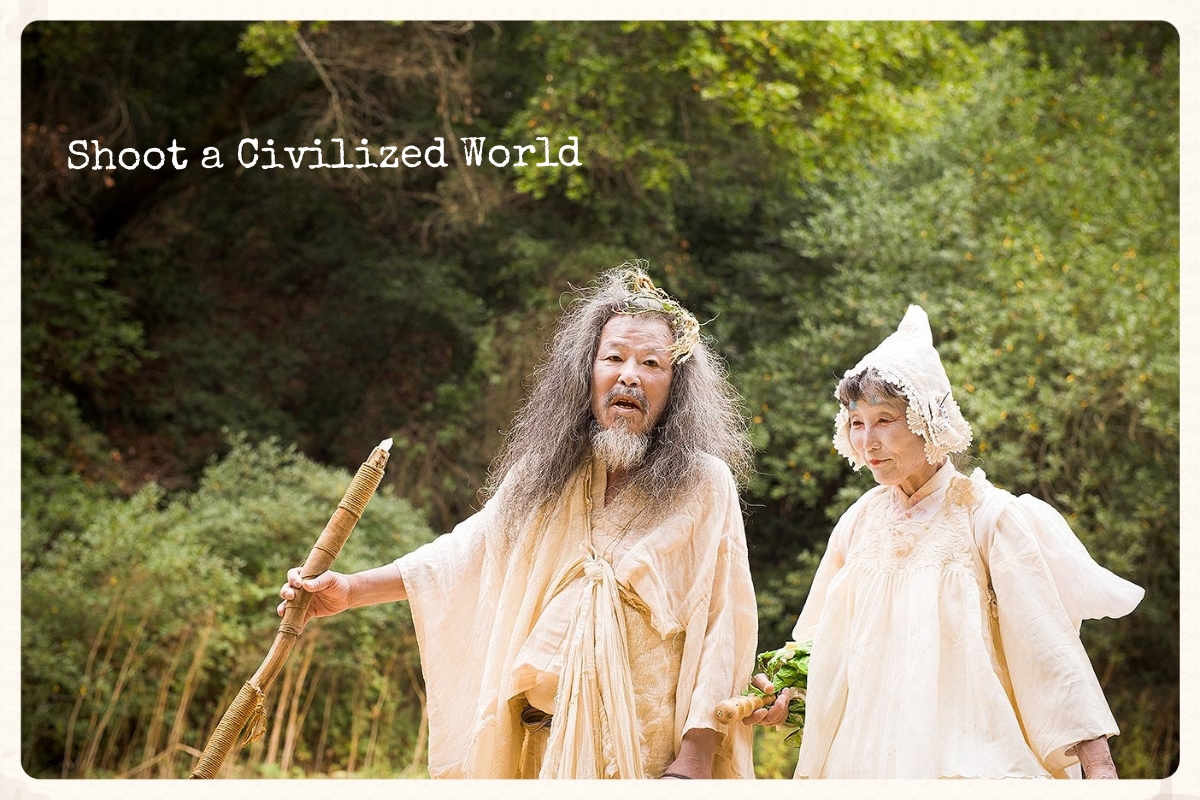 Yugen in Action
Series Presentation #2 - June 3 & 4 at 7pm
In the 2015/16 Season, Theatre of Yugen presents a two-part presentation series inviting Bay Area artists to create, revive or develop work for a two-night presentation and artists' engagement event at NOHspace. Yugen in Action is thematically linked to Theatre of Yugen's Fall 2016 premiere of The Red Demon, and uses the same motifs of "Immigration & Alienation," as the starting point for participating artists.
Proudly Featuring the Following Works:
They Came Like Fire
Written by Roy Conboy, Directed by Ryan Marchand
Two women from different worlds share the same pains as they relive the terror of losing their homes to ravenous forces that consume everything in their path.
The Cave of Slutzk
Written & Directed by Hanna Pesha
When a young Jewish girl living under Stalin befriends a Dragon, she finds a dangerous ally in her fight to maintain identity and survive.
Shoot a Civilized World
Created by Hiroko & Koichi Tamano
Urged to find our own time, to run away from the wheel of the Economic Rise of Japan. Then, an impostor whispered "an American big show..."
Mimi's Suitcase
Written & Performed by Ana Bayat
1 woman, 27 characters, 4 languages. True story of a European-educated young woman returning to her native Iran after the revolution.
PLANET CLOWN AND THE COSMIC SWIRL
Created by Christina Lewis
PLANET CLOWN AND THE COSMIC SWIRL is an absurdist look at our very fragile and confused relationship with our home.
Algor Mortis
Directed by David Silpa
Algor Mortis is a dance-theater exploration of what happens when the steps we take to connect with the world don't work as we hope.
Scroll down for more Info about each piece! (In alphabetical order by Artist's last name)
Mimi's Suitcase - Written and performed by Ana Bayat
ABOUT MIMI'S SUITCASE
Winner of Audience Choice Award for Best Play at 2016 Iranisches Theatre Festival in Heidelberg, Germany, Mimi's Suitcase is the true story of a teenage girl who returns to her native Iran from Spain in the midst of the 1980s Iran-Iraq war. This involuntary uprooting and the adventures that follow awaken engaging questions about identity, language, culture, displacement and homeland in this entertaining and heart-warming universal coming-of-age journey of resilience, humanity and, above all, hope.
Mimi's Suitcase premiered in New York City on November 15, 2015 and will next be performed at Hollywood Fringe Festival on June 17, 18 and 19, 2016.
ABOUT ANA BAYAT
Ana is a seasoned, multilingual stage, on-camera and voice over actor-linguist with extensive experience in theatre, film and language consultation. She has traveled extensively and lived in Barcelona, Tehran and London before settling down in the San Francisco Bay Area. Ana is fluent in five languages including Spanish, Persian, French, German and English, and can get by in Catalan and Italian. Her natural aptitude for languages and accents make her casting variability richly universal.
They Came Like Fire - Written by Roy Conboy, Directed by Ryan Marchand
Sandra, a former San Francisco Mission district resident, and Sandy a former resident of Lake County California recount their harrowing escapes from the ravenous forces that displaced them both from their homes. The pain they experience in such loss makes them kindred spirits of sorts, however no matter how similar their agony in the aftermath They Came Like Fire touches upon where these women's experiences diverge; and the differences between the destructive forces of nature and the darker forces of human nature.
Performed By
Alix Cuadra: Sandra - Sheila Berotti: Sandy - Ryan Marchand: Dancer - Golda Sargento: Guitarist
ROY CONBOY (Playwright)
Roy Conboy is a writer, director, and teacher of Latino/Mixed Blood descent. For more than 20 years he has been the head of the Playwrighting Program at San Francisco State University. His most recent play is In Hollow Time: A Blues Mystery on the Recession, which was developed and produced at San Francisco State in 2014. Other recent work includes My Tia Loca's Life of Crime at Breath of Fire Latina Theater Ensemble in Santa Ana, and Bindlestiff Studios in San Francisco. His children's play, El Canto del Roble/The Song of the Oak, is presently being toured through Central California schools by PCPA Theaterfest of Santa Maria. Other productions have been seen at Teatro Esperanza, the Mark Taper Forum/Taper Too, Teatro Vision of San Jose, East Los Angeles Repertory, Teatro Latino in Minneapolis, Teatro del Pueblo in St. Paul, the Guadalupe Cultural Arts Center in San Antonio, Teatro Milagro in Portland, and Cucucuevez in Santa Ana.
As an educator Roy has helped raise the SFSU Playwrighting Program to national prominence. He has created numerous opportunities for student writers, including GreenHouse, and the SFSU Fringe. His former playwriting students include, among many others: Marcus Gardley, Peter Nachtrieb, Karen Macklin, Brian Thorstenson, Prince Gomolvilas, Trevor Allen, Garret Groenveld, Rodrigo Duarte Clark, Evelyn Pine, Elizabeth Gjelten, Claire Rice, and Nick Pappas.
Ryan Marchand (director)
Ryan Marchand is an actor, director, and theatre educator who grew up in Los Angeles, but has made his home San Francisco since completing his BA in French, and his minor in Theatre Arts at San Francisco State University. It was there that Ryan studied extensively with Barbara Damashek; was first introduced to Roy Conboy as part of the Fringe Festival; was first introduced to Asian theatre styles studying the Suzuki Actors Training Method with Dr. Yukihiro Goto; and was first introduced to Theatre of Yugen and Noh & Kyogen training. Since then Ryan has appeared with Theatre of Yugen in a Kyogen style adaptation of Candide, as well as the world premiere of This Lingering Life by Chiori Miyagawa. Ryan is also Artistic Director of Handful Players, now celebrating their tenth year of operation; providing free after school musical theatre training to the Western Addition.
PLANET CLOWN AND THE COSMIC SWIRL
Christina Lewis & the Clown School of San Francisco
PLANET CLOWN AND THE COSMIC SWIRL is an attempt to look at the dynamics that are leading humans to destroy our planet. Through the use of humor we aim to shed light on the absurdity of our compulsive and addictive relationship to to our planet and it's resources.
Christina Lewis
has been teaching and performing Clown and physical theatre for 30 years. She began her journey at Oberlin College as a member of the Oberlin Mime Troupe, and continued her exploration in San Francisco in the 80's , participating in Street theatre, and studying Clown with Arina Isaacson and Drama Therapy at CIIS. She now runs the Clown School of San Francisco which is dedicated to training people of all ages in the vulnerable and venerable art of Clowning.
The Cave of Slutzk - Written and Directed by HANNA PESHA
The Cave of Slutsk takes you back to 1920s Belarus. Stalin is in power. In this setting, a young Jewish girl fights to maintain her faith and identity, and to help her family's collective farm survive. When she befriends a Dragon named Pogrom she finds a dangerous ally. As hard land in the Belarusian countryside keeps her family below their Bolshevik production quota, she must rely on magic and choose between the faith of her birth and the collectivism of her new immigrant life. At once haunting and humorous, The Cave of Slutsk will stay with you.
Performed By
Christopher Weddle: Pogrom - LeighAnn Cannon: Raz - Gino Rose: Maxim
HANNA PESHA
Hanna Pesha grew up half in Oakland and half in rural Mendocino County. She is a writer, artist and first time director. She worked in film on the production end of Mother Story and the feature-length Paradise Cove. She has been published in Arcata Free Press, The Steelhead Special, Sparkle and Blink, Banana Pitch, and Bay Area Generations. She has taught with California Poets in the Schools, been an artist in residence at the Mendocino Art Center, and has facilitated workshops for domestic violence survivors through Poets and Writers.
ChristopHer Weddle
Christopher Weddle is an actor, carpenter, and writer that was forged in the Piney Woods region of Texas. He bounced from state to state as a carpenter before landing in Berkeley seven years ago. A graduate of Waterfront Playhouse & Conservatory, he has appeared onstage in A Dreamer Examines His Pillow at Phoenix Theatre and as Mike Dillon in Body Electric Productions staging of Good People at Waterfront Playhouse. Later this year he will appear as Bob the Bartender in the West Coast premiere of Black River Falls. You can catch him on screen at the Castro Theatre in July as a the cold-blooded killer Scarface Jack in Scary Cow's Ghost in the Gun written and directed by Andrew Chen and later in the summer as Jasper Higgins in An Unplanned Awakening. He makes his television premier as Darryl Norris in July in Episode 8 of I Almost Got Away With It on the Discover ID Channel.
LEIGHANN CANNON
has been performing in theatre and film around the Bay Area since she was a young girl. Most recently she was seen on the stage as Chava in Hillbarn Theatre's production of Fiddler on the Roof. Favorite productions include: Amadeus (Katherina Cavalieri) at Hillbarn Theatre, Jesus Christ Super Star (Featured Ensemble) at Coastal Rep., and Hello, From Bertha (Bertha) at Muhlenberg College. She holds a BA in both acting and directing from Muhlenberg College.
GINO ROSE
Gino has appeared in numerous local theatre productions, including the role of Nicolas in Pinter's ONE FOR THE ROAD (Performers Under Stress); Baptista in TAMING OF THE SHREW (Half Moon Bay Shakespeare Co.), and Sorin in SEAGULL (College of Marin). He's in the feature film: WHITE RABBIT, and has done other dramatic films as well as national corporate and commercial productions. He is an accomplished writer and solo performer. He performed his evening length, solo piece THE FORMER GENE THOMAS, A Work In Progress at the Meisner Technique Studio Theatre; and, he will be appearing again shortly as part of SOLO SUNDAYS at Stagewerx Theatre. He is a graduate of the Meisner Technique Studio, where he is also a faculty member. He is represented by Look Talent, and is a university professor and a published poet.
Algor Mortis (Working Title)
Director: DAVID SILPA
We are presenting an excerpt of a piece tentatively titled "Algor Mortis", which will comprise the second act of an evening-length dance-theater experience to premier this October. "Algor Mortis" examines the mechanisms that allow us to form connections with the the world and people around us, with particular emphasis on what happens when those methods don't work. It seems like one of the most common denominators between people is that we all experience alienation from our shared experience, despite differences of magnitude and quality between different people. Can we find solidarity in the awareness of our mutual alienation, and can our understanding of our shared alienation open ways of overcoming the paradigms that entrench us in damaging thought patterns?
Performers / Ensemble
Jenny McAllister &

Kiplinn Sagmiller
David Silpa
is a dance and theater artist based out of Oakland. He is currently working with 13th Floor and Wei-Shan Lai & Co., as well as developing an evening length performance to premier this October. He is an alumnus of the University of San Francisco, where he is employed as a general chemistry lab TA.
Polyhedron Company
is a production company focused on experience design, founded in 2016. Polyhedron seeks to create immersive performances that ask fundamental questions about existence and consciousness, as well as how these relate to our shared reality. Our debut performance -- The Summoning -- will premier at Babe Lab in Oakland this October, as a magical investigation into the ties that bind the world together. Working across disciplines, we seek to combine scientific perspective with dynamic performativity to create a unique and expansive performance experience.
JENNY MCALLISTER
is Artistic Director of 13th Floor, and a member of Deborah Slater Dance Theater, Lizz Roman & Dancers and Twisted Oak. She's previously performed in the work and companies of Chris Black, Keith Hennessey, Fellow Travelers and detour dance among others. Her background is a mix of dance and theater; her early training included A.C.T. and Oakland Ballet, and she's studied release and partnering extensively with Joe Goode, Lizz Roman and Scott Wells.
KIPLINN SAGMILLER
is a Bay Area transplant who graduated from the University of Hawaii at Mānoa and went on to dance with various companies from Hawaii, San Diego, Seattle and now the Bay Area. She's trained in ballet, modern, jazz, aerial silks, acrobatics, parkour, belly dance and loves AcroYoga. You may have seen her recently in Constants & Variables, SFMAF, Levy Salon, Dance Monks: Nomad or at events around the Bay. Kiplinn currently teaches at the Athletic Playground in Emeryville, CA, and Flying Studios in Oakland.
Shoot a Civilized World
CREATED BY
HIROKO & KOICHI TAMANO
Sound by KITARO
Performed By
Hiroko & Koichi Tamano, Ronny Baker and Martha Matsuda
"Butoh based on Life" ... ( but, Oh ! )
We did not know how to stop floating weed & convenient Tokyo life style. We had to go to Nowhere Land.
From LA to SF bay area, we took Route 5 - of which people said "there is Nothing..." Old Oak trees welcome us. Super tall old black man said "Hi" when we pass each other. Dogs ignored us and rested in the shade of sidewalk trees.
Butoh dance theater, every night in Punk Rock Houses. ( but, Oh ! ) on the way back from Canada, we got "Cancel" stamped on our passports... Bor~der ~ ....
Koichi Tamano
Born 1946, Shizuoka, Japan.
Butoh pupil under Tatsumi Hijikata since 1965.
In 1976, at SFMOMA, the first Butoh appearance in USA.
Hiroko Tamano
Born 1952, Fukuoka, Japan.
Butoh pupil under Tatsumi Hijikata since 1972.
West Berkeley neighbor since 1979.