YIA 2018: Healing Through Art
What Is Yugen In Action?
Yugen In Action is a yearly two-night event that brings together artists from different disciplines to showcase short pieces around a central theme.
This year. we asked six local performers to explore the intersection of art and community. The resulting performance weaves together their poetry, dance, and dialogue, demonstrating that art is made with the intention of building and healing our communities. We invite audiences into this space not only to listen, but to be heard-- each night will be proceeded by a dialogue between audience and performers.
JULY 27th - 28th, 2018
$10 - $30
7pm
The Angel Inside Us All
Sountru, a.k.a Angel
 
"An intro to an extraordinary and other-worldly being who has landed on earth and begins questioning what makes humans human [...] The probing questions of Angel have always concentrated on drawing on the deep humanity and intelligence of the ordinary SF resident he interviews. Subjects he has covered in the past are love, friendship, soul, and much more. It isn't just the questions he asked, but his skilled improvisational interaction with his subjects that is revealing of a deep connection to the human heart. He questions, but he also inspires thought in these interactions. The subtle process that Angel guides is usually a surprise to his guests and audience."
Sountru aka Angel has been a performer & resident of San Francisco for 38 years. Sountru has performed 2 shows previously at Yugen under the name: Multi Media Story Band. Sountru honed his improv skills in the early days of Bay Area Theatre Sports (BATS). He also performed in Solo Mio at Fort Mason (so long ago he can't remember the date). Besides performing, Sountru also enjoys teaching other writers/solo performers to bring their work to the stage. Sountru has showcased his students work at Yugen.
"Through The Golden Gates" (a YouTube series featuring Angel's heavenly arrival in SF and following him in his transformation from innocent newbie to seasoned talk show host) has been in development for 9 years but has been on hiatus for the past 7 years as Sountru has taken responsibility for his sister's two children because of her death.
Pat Mayo, a retired organizational administrator, has always been drawn to the creative worlds of theater, dance, multi-media art, and film. Consistent and intimate exposure to creativity was nurtured through her own family of artists and later in her circle of artistic friends. This creative influence combined with her analytical mind developed a unique eye for artistic expression. She has collaborated with friends in their productions of stand-up comedy, theater pieces, promotional videos, and documentaries. In addition to her direction of Angel (aka Sountru) in this Yugen production and his upcoming TTGG talk show at Yugen, her current collaborative project includes filming, scripting, and production of a documentary of five Japanese-American Bay Area artists honoring their ancestors at Manzanar Internment Camp called "Granddaughters' Journey: Ephemeral Glimpses From Behind Barbed Wire."
Get Uncomfortable
Nicia De'Lovely
Nicia De'Lovely is an Oakland, CA Poetess, Creative, Survivor and Anti-Sexual Abuse Activist. She is the Founder and Director of Nicia De'Lovely Presents, an independent/ grass-root production that creates survivor-based performances for awareness, prevention and healing of sexual abuse. She's creator of the renowned roaming recital "Get Uncomfortable," a provocative survivor-based performance inciting dialogue to end sexual abuse, and "GOD'S: Guiding Our Daughters," a semi-annual concert luncheon for local women in transition. Nicia is the author of three self-published poetry books, has performed on stages nationwide as a soloist and as a leading poet of Oakland's acclaimed anti-sex trafficking/ anti-CSEC performing troupe, "CEREMONY" by Regina Evans, Abolitionist/ Entrepreneur/ Director/ Freedom Writer.
The Last Omiyage
Judith Kajiwara
Judith Kajiwara is an independent Butoh solo performing artist, choreographer and teacher who lives in Oakland. She began her Butoh career in 1997 with her first solo performance, The Ballad of Machiko, at NOHspace. She is a life-long dancer who teaches Butoh and urban dance classes in the East Bay. In 2013, she formed OnenessButoh, an ensemble of Butoh enthusiasts who regularly train and perform her stage productions. She and OnenessButoh will premiere Ode to Minamata, performed with live taiko drumming, in Spring 2019.
The Joyce Project
Nan Busse
"The Joyce Project": weaving experiences in heart and sound inspired by the city of Oakland, CA.
Visual artist, dancer, choreographer, sometime musician in the Bay Area for over 20 years, Nan Busse is passionate about the unity of movement and text, improvisation with New Music musicians and the performance/creation of movement scores. Her most recent work, "A sentence is inside itself...." (Best of SFfringe) is a meeting of Gertrude Stein and Samuel Beckett illustrated in music, movement and text. A dancer by trade, M.F.A. from UC-Irvine; proudly based in Oakland, CA.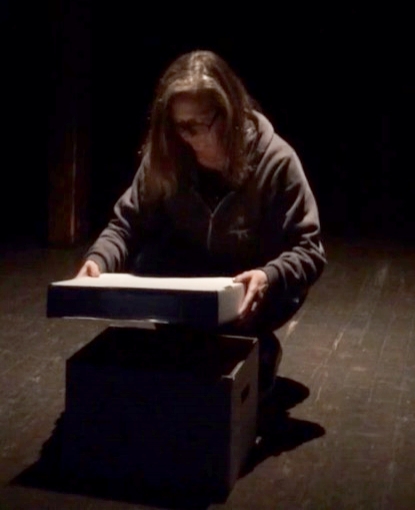 An admirer of classical music and musical theater, Cindy Webster creates soundscapes using found objects, found sound and effects. She has appeared at San Francisco, Dublin, Zootown and Grass Valley Fringe Festivals, The Diasporas Festival, trees, film. She is happy to be part of "Yugen in Action".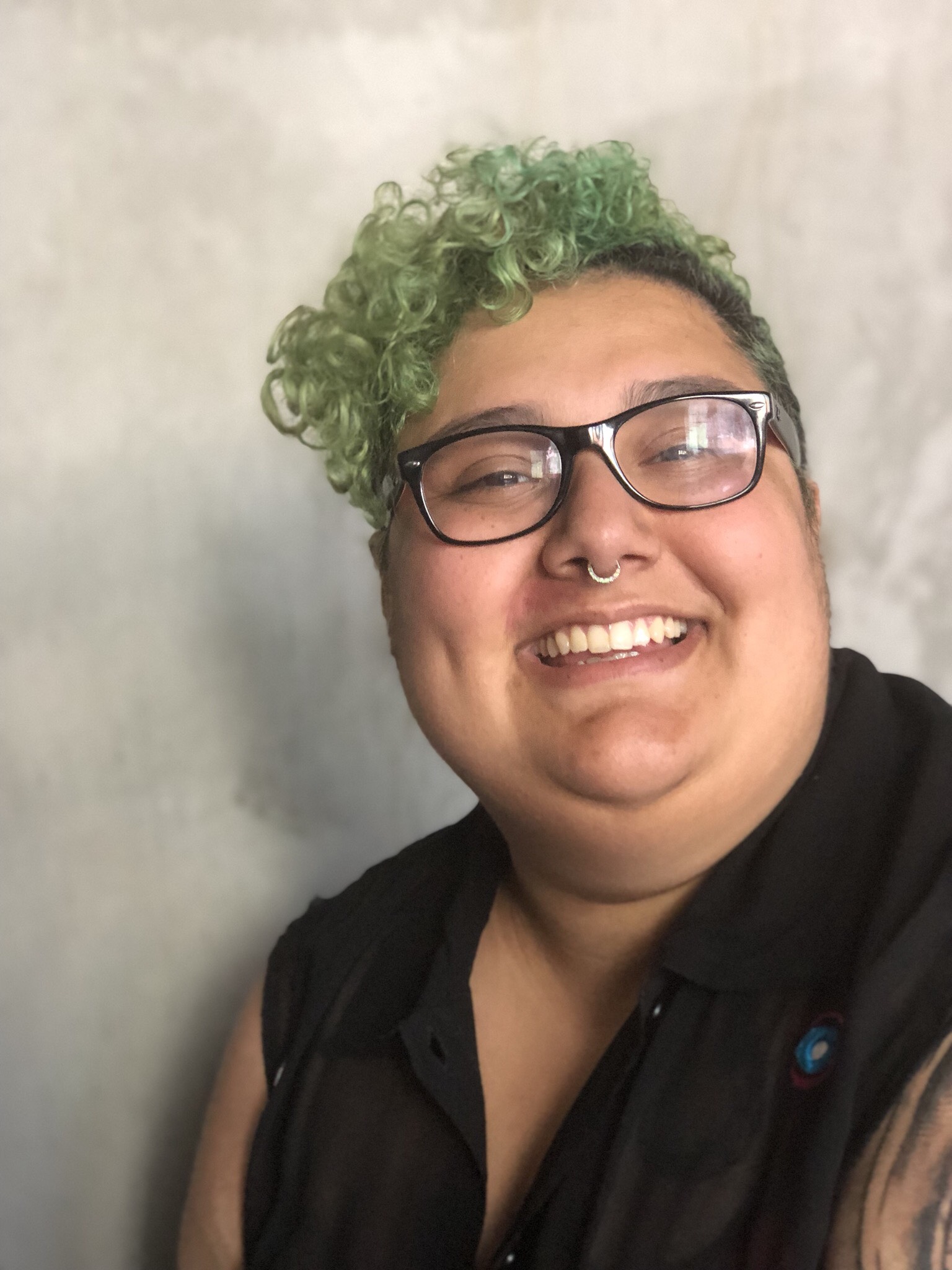 "Dolores is about Vladimir Nobakov's "Lolita" and how I dissect and analyze the piece of literature and trying to address why it is still classified as a Romance Novel and how that is wrong. I am trying to deconstruct our societal tendencies of perpetuating bad behavior learned from media sources, like sexual abuse and misogyny. Beginning with this well known book of a 40 year old man who falls in love with a 12 year old girl, and how the lens of his perspective warps society to feel sorry for him and believe that he really was in love instead of in lust, and demonize a little girl for "using" him and "breaking his heart". The piece is named Dolores because many people don't know Lolita's real name because of this warped perception. We only hear and see the man's point of view and never the little girl's. So I'm providing a platform for Dolores to finally speak out."
Nicky Martinez is a Program Manager at CounterPulse and a 2016 University of San Francisco graduate of the Performing Arts and Social Justice program for Theater. They are a native Bay Area Latinx genderfluid queer theater arts maker that has experience with playwriting, acting, and directing. They have worked as an actor with these respected theaters: Magic Theater, Z-Space, Dragon Theater, The Imaginists, Bindlestiff, Pianofight, and others. Their playwriting work has been recognized by USF honoring them the Gender Justice award for their work. They enjoy presenting art that deals with difficult issues that usually become silenced in society and uses art to provide a platform and voice for the silenced.
"My newest work, Bones, reflects nature itself, accessing the innate wisdom and feminine intuition that lives within our bodies. As a series of solos and duets, this new work aims to identify the inner battles that prevent us from experiencing our wild selves. For me, bones are a symbol of death and rebirth - a research of the soul. Though we may not share the same personal histories in society, bones could symbolize the truth of equality - once we dig deeper, we find that we all share the same matter."
Khala Brannigan, a native of Santa Fe, New Mexico began her training with Moving People Dance Theatre under the direction of Ronn Stewart and Layla Amis. Brannigan is a LINES Ballet Training Program alumna of 2011-2013 and and since graduating, she founded Brannigan Dance Works. As a choreographer, Brannigan has formerly collaborated with local opera singers, musicians, visual artists, video designers and more. Her work has been included in West Wave Dance Festival, Summer Performance Festival, San Francisco Dance Film Festival and SF International Arts Festival. As a dancer, Brannigan is currently working with Robert Moses' Kin.